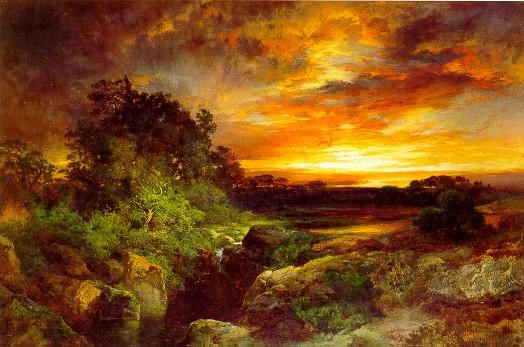 Viewer

An Arizona Sunset Near the Grand Canyon, 1898
Oil on canvas, 20 X 30" (50.80 x 76.20 cm.)
Butler Institute of American Art
Signed, lower right

The flaring red-orange sky of An Arizona Sunset Near the Grand Canyon, made even more dramatic by the contrasting gray clouds, reflects Moran's debt to the coloristic freedom of J. M. W. Turner. The sharp drop from the edge of the foreground to the river flowing between rocky outcroppings is similar to the increased drama created in the 1892 painting of the Grand Canyon, which, instead of a foreground filling the lower edge of the picture, is only anchored at the right and left corners, the center falling away with awesome suddenness into a deep gorge.

Moran's earlier pictures also tended to give landscape sharp, clearly defined features suggesting truth to topographical reality when, in fact, elements seen from different viewpoints were often combined in order to recreate the effect of the actual site. In his later paintings, landscape features tend to be less insistent in outline, more gentle in contour and enveloped in a more poetic atmosphere. Here the glowing sunset sky impressively silhouettes trees seen as a dark green mass and picks out the edges of the rock formations, separating them from deep shadow. It is more a picture of general atmospheric mood than the sum of topographical details, reflecting the late nineteenth-century taste for poetic image rather than sunlit description.


Moran continued to paint the landscape moods of the Southwest, returning almost every year between 1901, when the Santa Fe completed the rail line to the Grand, Canyon, and his death in 1926. Since his first visit in 1873, he had traveled to the Rockies, Europe and Mexico, yet he was drawn back again and again to the Southwest. Alongside him now came travelers attracted to the region for the first time by the landscape images he had created.