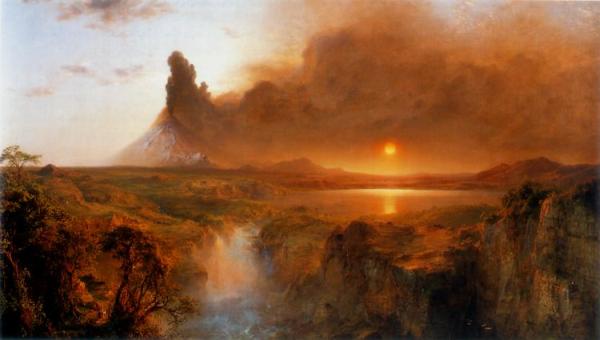 Viewer

Cotopaxi, 1862
oil on canvas, 48 x 85 inches.
Photo: The Detroit Institute of Arts.

Cotopaxi National Park.
The white-coned summit of the perfectly symmetrical volcano takes pride of place along the Avenue of the Volcanoes. The glaciated summit is 5,907 meters, or 19,400 feet, above sea level, making it the highest active volcano on earth. Surrounding the "King of the Andes", you will find the moorland ecosystem of the National Park, a vast wilderness of sweeping plains. Its 85,000 acres protect Andean condors, llamas, spectacled bears and many other species of highland fauna and flora. Exquisite landscapes are revealed as you hike the trails, including one to the Inca ruins of El Salitre, whose rounded walls are rare in Inca architecture and indicate a temple of the Sun.