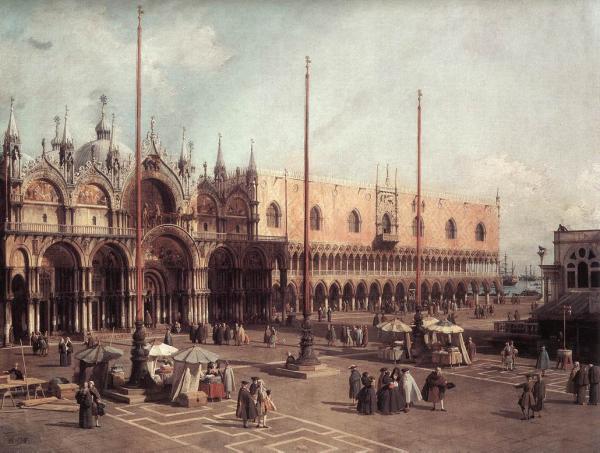 Viewer

Piazza San Marco: Looking South-East
1735-40
Oil on canvas, 114,2 x 153,5 cm
National Gallery of Art, Washington

Send this picture as postcard

Friendly format for printing and bookmarking
Together with the Entrance to the Grand Canal: from the West End of the Molo, this view of the Piazza San Marco is thought to have been bought by the Earl of Carlisle, directly from Canaletto himself. Both works hung in Castle Howard in Yorkshire, one of the homes of the Carlisle family, until they were sold and presented to the National Gallery in Washington by Barbara Hutton in 1945.

The Piazza is here shown as a lively centre of commerce; stallholders cluster round the flag staffs and are protected from the sun by large colourful parasols. From left to right an impressive view of the San Marco, the Doge's Palace and a view of the Bacino, forms a backdrop to their activity. From this vantage point the artist shows a clear view of horses of San Marco which are set above the main door of the church; they were later to become the subject of one of Canaletto's most inventive capricci (The Horses of San Marco in the Piazzetta, Royal Collection, Windsor).